As an ordained minister, I've performed numerous weddings throughout Northern California. Because my ordination is from a non-denominational church, I'm not picky about what kind of ceremony I perform. All I care about is that the two people getting married are really, truly in love. I won't require you to do any counseling, and I'm comfortable doing themed weddings (my own wedding was Star Wars-themed). Send me an e-mail today and we can talk about what kind of wedding you want.
---
Types of Ceremonies / Denominations
I have experience with a wide range of wedding ceremonies, and I'm comfortable performing almost any kind of ceremony you'd like. My very first wedding was a tree-planting ceremony, and it's only gotten more fun from there. Do you want a short ceremony so you and your guests can get on with the fun? I can do that. Are you non-religious and just want to proclaim your love? Fine by me. Candle-lighting? Sand-writing proclamation? Themed? Klingon? You name it, I probably don't mind. In fact, if you've got a nerdy theme, I'm probably the guy you want — I can correctly pronounce Klingon, Tolkien Elvish, and Old Norse. I'm even available for same-sex marriage (depending on if they're legal this week).
---
Ceremonial Services
While I do provide basic wedding services at a competitive rate, my specialty is my deluxe service where I work with you to make sure you get a ceremony worthy of your wedding day. This means you'll get a ceremony custom written for you and your special relationship with your partner. I have a Master's degree in narrative literature and work as a writer for a living — trust me, I can write you a beautiful ceremony. All you need to give me is a few details (special things that define your relationship, what kind of vows you wish to exchange, and how much talking you want to do), and I'll write a ceremony specially tailored for you. And I hope you agree with me when I say this — I think marriage ceremonies should be both fun and heart-felt. Nothing makes for a better wedding photo than the bride & groom laughing together at the altar. Your day should be a memorable affair about you, not some stuffy passage from a book you've never read or a copied ceremony written about people you've never met.
---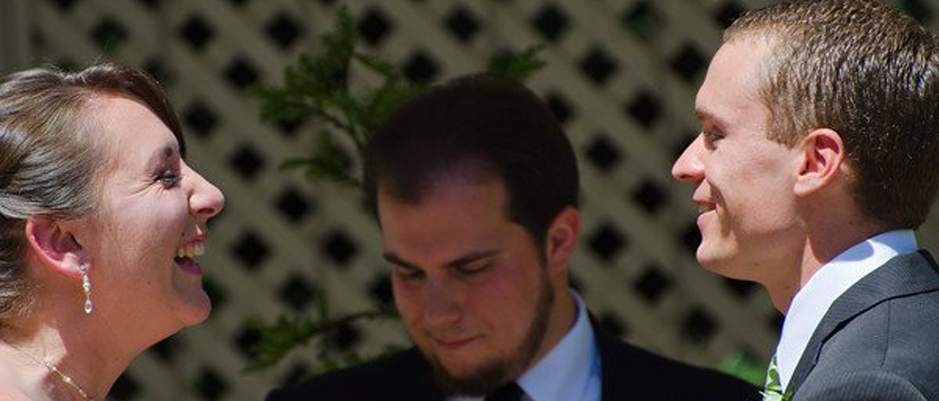 ---
Travel / Venue / Location
While I'm based in Santa Clara County, I'm available to perform weddings throughout much of the Bay Area and beyond. Plus, if you've got a wedding somewhere fun, it might just be time for me to take a vacation anyway. Within Santa Clara County, travel fees are included with your ceremony. If you need me to travel a little further, then I'll just ask for the cost of gas. However, if you're having a wedding somewhere fun and I've been meaning to visit anyway, then I might not charge anything. Bottom line: ask! I don't have any preferred venues, and I'm happy to work with whatever venue you choose.
---
Friends
If you're interested in pre-marital counseling, my sister-in-law is a practicing marriage & family therapist who just happens to have phenomenal per-session rates. If you sign me on as an officiant, you'll get a referral that will make your sessions even cheaper. 
Rates
Basic Services: $150
Basic Services includes the reading of a pre-written script during your special day.

Deluxe Services: $300
Springing for the Deluxe service means you get a custom-written ceremony written just for you and never used again.

Rehearsal Fee: $25
I charge a flat rate of $25 for your rehearsal. While a rehearsal is not required to have a successful wedding, it is recommended if you have a complicated ceremony.

Travel Rate: $1/mile
If you're having your wedding in a location where I would charge travel fees, my rate is generally $1/mile.